ABT Househam – Operator Cab Design
A collaboration with vehicle cab manufacturer ABT Products, this operator cab design for Househam Sprayers is featured on their range-topping Predator and Harrier crop sprayers.
Form Foundry were responsible for the conceptualisation and development of the exterior and interior design. In addition, we created the 3D CAD prototype/production data for all the custom moulded parts. ABT were responsible for the engineering design as well as the manufacture of the initial cabs to Househam.
We started the project with sketches that defined the distinctive appearance of the Househam high-end products. Alongside these sketches, we created initial layouts that helped to define both the ergonomics and the structure of the cab. We quickly established the major styling themes, these included; curved glass for all glazing, frameless doors and the distinctive roof profile. The roof is a complex two part composite moulding that not only provides the distinctive styling but also creates a sealed chamber for the air conditioning.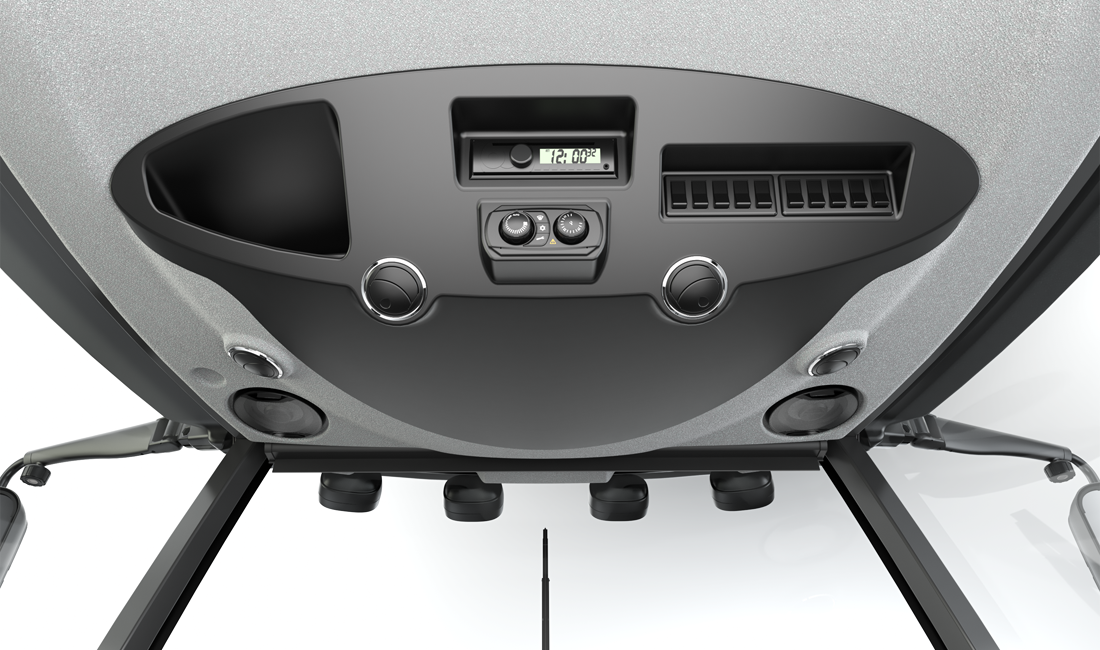 The interior concept was to be clean and uncluttered and we chose a restricted material palette with metal accents to create a premium quality feel. We moved the secondary controls upwards, into the roof lining, in order to maximise the operator's downward visibility. The roof lining is a two-part construction that features a fixed, soft faced, acoustic lining with a contrasting rigid moulded 'shield'. This 'shield' houses both the controls and a storage pocket on a panel angled towards the operator. In addition, the shield is removable, which affords service access.
A complex project such as this can yield a lot of data and files; this can be problematic. To ease the workflow, we hosted files on-line and created a way of referencing files between Rhino and SolidWorks. This ensured that both ABT and ourselves always used the same, most up to date, version of the data.
See more of our Vehicle and Cab designs
Find out more about ABT Products